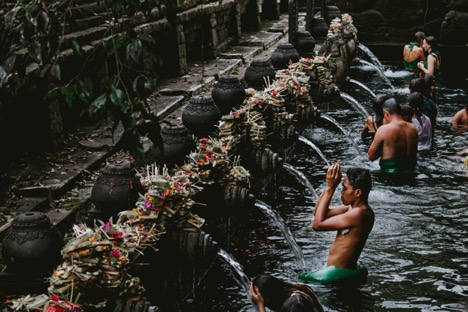 Bali is a province at the east of Java, at the Lesser Sunda Islands westernmost. Over the years, Bali's grace and charm attracted the worldwide public's praise and love, which gained the homage of the Island of the Gods, The Last Paradise, Land of a Thousand Temples, and Morning of the World.
With tourism making up to 80% of its economic income, Bali is Indonesia's most visited province and amongst the most desired tourist attractions worldwide, all for a fair and reasonable cause.
Made up of fascinating heavenly landscapes, Bali never failed to attract and amaze the eyes of many. The province stakes a serious claim to be paradise on earth with its beautiful, rugged coastlines and sandy beaches, various landscapes of hills and mountains, abundant rice terraces, and dramatic skies during sundowns.
Another aspect that compounds the refinement of Bali is its deep spiritual and cultural prospect. Bali holds the highest Hindu population province in Indonesia, with almost 90% of the population.
When you visit the island, you will see the strong influence of Hinduism in its daily life. For example, scattered on the streets and entrances, you will find sacred offerings devoted to the Gods.
There is a belief that deliberately stepping or assaulting these offerings will bring havoc to the individual. Other Balinese religious and cultural acts and celebrations are as follows,
1. Upacara Ngaben
Ngaben is a cremation ceremony held by Balinese Hindus, which sanctifies the spirit and separates the soul and the body. This traditional ceremony is divided into several types, namely Ngaben Sawa Wedana, Ngaben Asti Wedana, and Swasta.
Usually, the Ngaben Ceremonies are held within 3-7 days. Some preparations last up to a month, and the bodies are preserved until the funeral is carried out. This type is also known as Ngaben Sawa Wedana.
2. Upacara Saraswati
Saraswati ceremonies are significant for students and academia. It is believed to be when sacred knowledge to humankind for prosperity, progress, peace, and increased human civilization descended.
Saraswati ceremony is celebrated every six months, specifically on the day of Saniscara Umanis wuku Watugunung. The tradition is usually combined with various performance arts, such as dances, story readings, and literary night.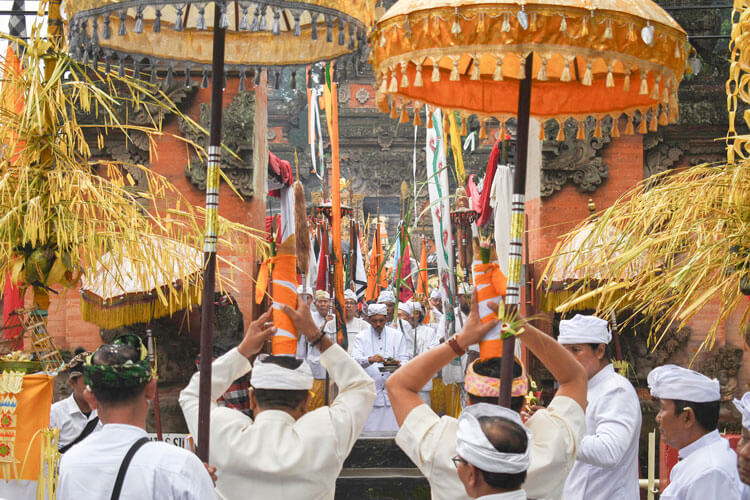 3. Upacara Mesuryak
Mesuryak ceremonies are held to honor the ancestors, aiming to provide provisions in rice and money to ancestors who will return to Suarga Loka (afterlife).
Celebrated every 6 months, the ceremony is carried out by throwing money into the air, which will later be fought over by the residents to symbolize prosperity.
Historically, Bali has been exposed to many cultures, especially from India, China, and the Arab World. In combination with the high percentage of tourism in modern life, these make Bali an affinity for multiculturalism.
Despite being majority Hindu, other religions and beliefs are certainly welcome in Bali, though commonly assimilated with Balinese culture. For example, in some parts of Bali, you can find churches that are designed in Balinese architecture.
Despite not adhering to the Christian faith, Bali also regularly celebrates Christmas; there are contemporary Christmas carols played with Gamelan. In 2012, the Day of Silence (Nyepi), whereby everyone, if prohibited to leave the house, conceded with the Muslim Friday Prayers.
This drew tolerance from both sides; Muslims are allowed to walk to the mosque but were not allowed to use loudspeakers.